Local. Family Owned. Trusted.
The best window cleaning team
Professional window cleaning services for sparkling clean, streak-free windows.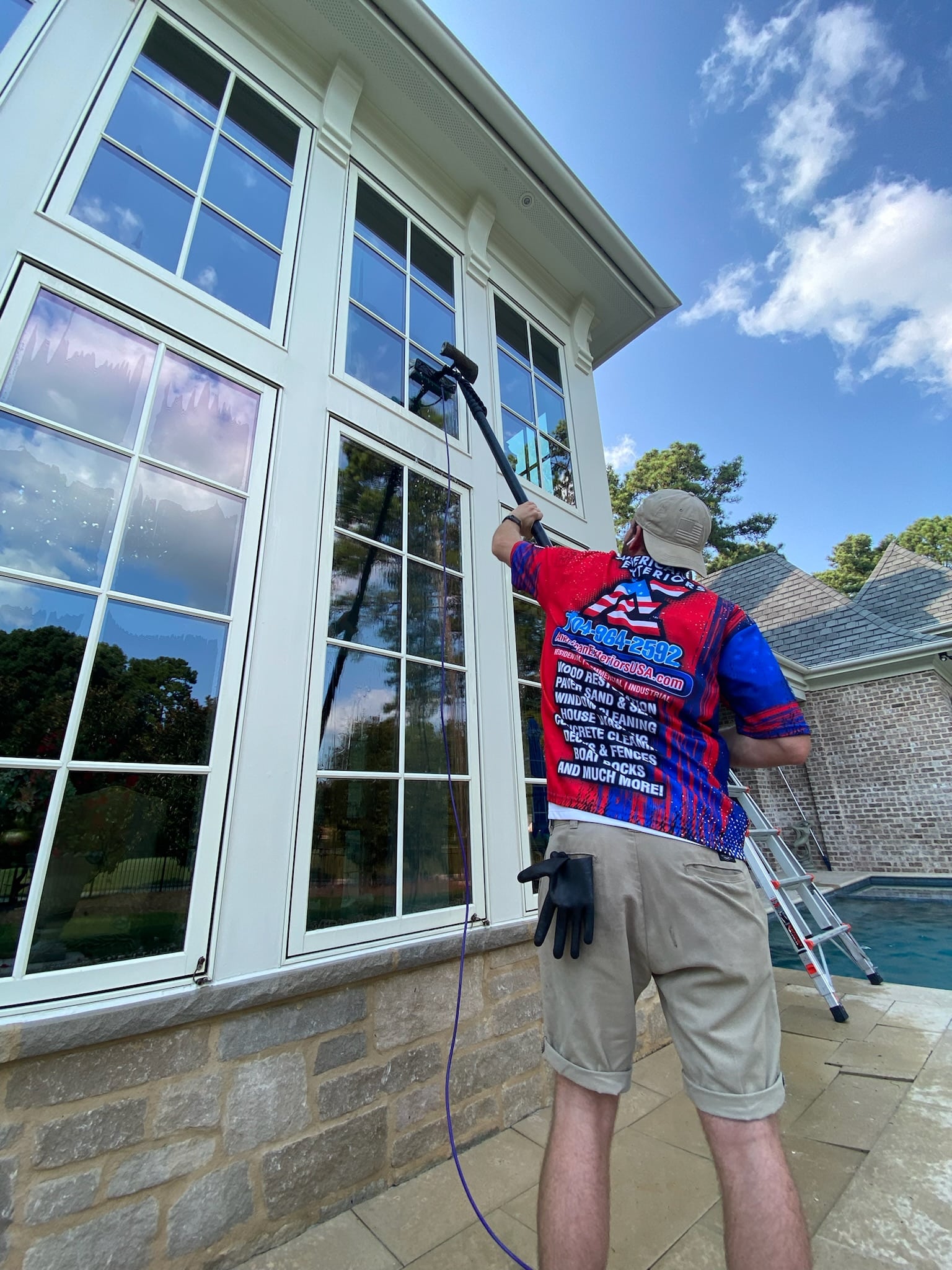 Reviving the Beauty of Your Home with Professional Window Cleaning
Window cleaning isn't just about making your home look pristine; it's about enhancing its curb appeal and ensuring the longevity of your windows. At American Exteriors, we understand the transformative power of clean windows and the value they add to your property.
Choosing professional window cleaning services from American Exteriors can significantly impact the maintenance and appearance of your property. Our team of skilled professionals possesses extensive knowledge of glass and is well-equipped to handle a wide range of properties, from historic homes to contemporary city residences, waterfront properties, and more. One of the key benefits of opting for our services is the extension of your windows' lifespan. Over time, windows can accumulate dirt, hard water stains, and debris that can etch the glass and cause damage.
Our regular cleanings effectively remove these contaminants, preserving the clarity and longevity of your windows. Moreover, clean windows enhance your home's aesthetics, boost its curb appeal, and add to its overall value. Whether it's grime and streaks on the exterior or the buildup of dust and fingerprints on the interior, our window cleaning service ensures that every pane is spotless. Safety is another critical factor to consider, especially when dealing with exterior windows, especially in multi-story homes. Climbing ladders to reach high windows can be risky and lead to accidents. By hiring American Exteriors, you eliminate these safety concerns, entrusting the task to experienced professionals who can handle it with expertise and precision.
Our Window Cleaning Services
American Exteriors offers a comprehensive window cleaning service that covers various aspects:
Screen Cleaning: To remove mold and built-up dirt, deep cleaning your screens is essential, especially after the winter season. Regular spring cleaning keeps your screens clear of pollen particles.
Window Sill Cleaning: Even if your windows are seldom opened, dirt, dust, and insects can enter the window tracks. Regular window sill cleaning is a part of our housekeeping agenda, ensuring your windows remain spotless.
Post-construction window cleaning: Our specialized post-construction window cleaning service meticulously removes debris, paint splatters, and any residue left from construction, restoring windows to their original clarity and shine. We ensure that your windows regain their luster, enhancing the overall appeal of your property.
Solar panels: Our dedicated solar panel cleaning service utilizes industry-approved methods to eliminate dirt, dust, and debris that hinder solar efficiency. We guarantee thorough cleaning without causing damage, allowing your solar panels to operate at their maximum potential and improve energy production.
Skylights: Our professional skylight cleaning service is tailored to maintain these unique windows, ensuring they remain spotless to let in optimal natural light. We employ gentle yet effective techniques, ensuring your skylights enhance the brightness and ambiance of your space while offering clear views of the sky.
Inside and out window cleaning: Our comprehensive window cleaning covers both the interior and exterior surfaces, ensuring a complete and detailed clean. From removing smudges and fingerprints indoors to eliminating grime and dirt on the outside, our service leaves your windows crystal clear.
Commercial: Our commercial window cleaning services are designed to meet the specific needs of businesses, ensuring a professional and streak-free finish on windows that make a lasting impression on clients and employees alike.
Hard water stains: Our expertise in removing stubborn hard water stains from windows guarantees a flawless, blemish-free surface, restoring the clarity of your windows and enhancing the overall appearance of your property.
Chandelier: With delicate care and precision, our chandelier cleaning service restores the sparkle and brilliance of these intricate fixtures, ensuring they remain a captivating centerpiece in your space.
Mirrors: Our mirror cleaning service ensures a streak-free, pristine finish, enhancing the aesthetics of your mirrors and maintaining their reflective quality.
EZ Breeze Windows: Our specialized cleaning services cater specifically to EZ Breeze Windows, utilizing techniques that preserve their functionality and appearance, leaving them clean and clear.
Get your windows professionally cleaned with American Exteriors Lake Norman. With over 5 years of experience and 5,000+ satisfied customers, we guarantee 100% satisfaction. Schedule your appointment today, and let us make your home shine.
Want Great window cleaning Without Any Compromise?
At American Exteriors, we prioritize delivering exceptional results while ensuring your satisfaction with our safe and effective process. We back our service with a guarantee, giving you peace of mind when choosing us for your window cleaning needs.
Ready to transform your home with sparkling, streak-free windows? When you hire American Exteriors, you can expect fast, high-quality results. We strive to provide the highest level of care, from our simple scheduling process to safe, quality cleaning and the friendly guidance of our passionate experts.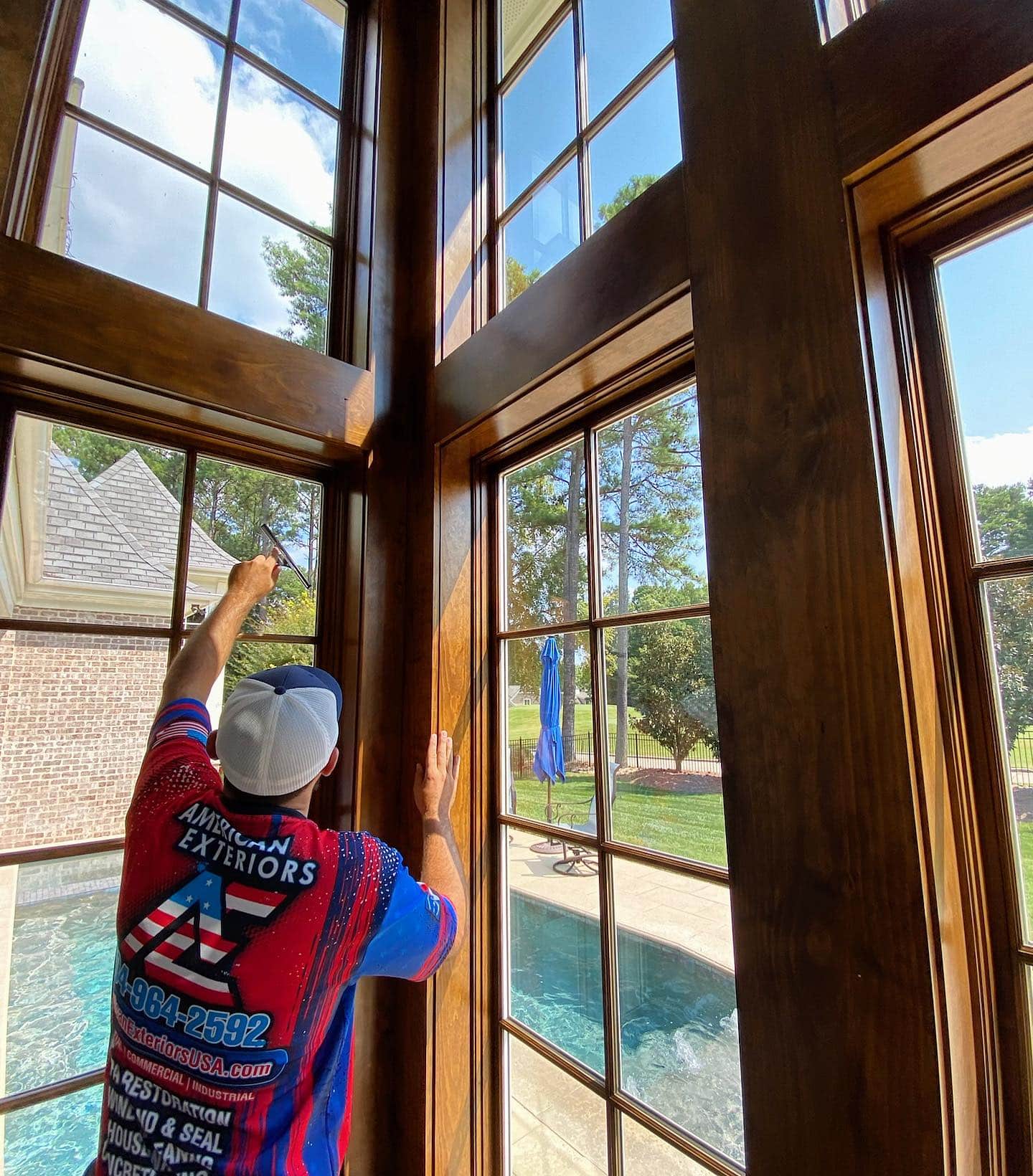 Press Play &
Watch our team at work